Are Your Prospects Doing All They Can on Their Smartphones?
Are your prospects aware of the dominant role smartphones and other mobile devices are playing in communications and information management? Are they getting all they can out of their devices? Technology giant Cisco forecasts that more than 70 percent of the global population will have mobile connectivity by 2023. Business news network CNBC says that almost three quarters (72.6 percent) of internet users are expected to access the web solely via their smartphones by 2025. That is equivalent to nearly 3.7 billion people globally.
The growth of mobile devices carries far-ranging impacts on: mobile access to content, mobile device security, mobile interaction with content, capture to process, remote access to workflows and cloud-based collaboration, among other areas. Connectivity with mobile devices is becoming a necessity for organizations to provide real-time access to business data and processes from remote locations, boost customer service and stay ahead of the competition.
Still, many organizations are holding back from allowing mobile access to business data and processes. AIIM reports that only 22% of companies support mobile access to important business documents. Among the reasons cited are cost and security concerns, even though cloud services offer the benefits of flexibility, strong security protections and little upfront costs.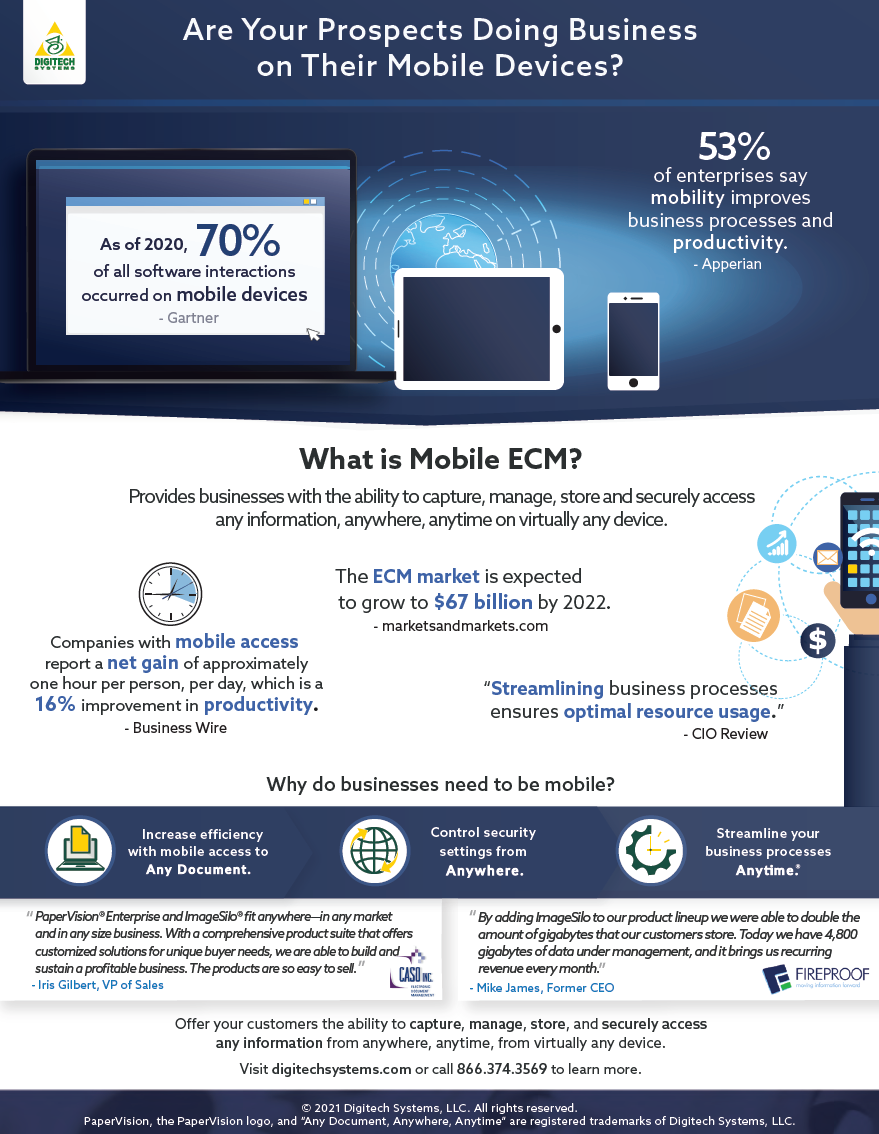 Help your prospects boost their productivity by demonstrating how they can extend existing processes to mobile with an Enterprise Content Management (ECM) system. Our Mobile Control feature provided businesses with the ability to capture, manage, store and securely access Any Document, Anywhere, Anytime®.
Grow sales by sharing the Mobile Device Infographic with your prospects to improve their understanding of the increasingly vital role mobile devices are playing in information management.