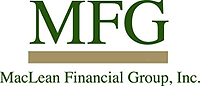 In today's competitive financial industry, automated processes are no longer a luxury but a necessity, in order to stay competitive. If your financial institution is still using manual processes to manage your data, chances are your staff experiences long response times to customer requests, are wasting hours of productivity, and physical storage is taking up valuable office space. All these factors are costly and can affect the bottom line for organizations. Do not let manual processes cause your financial institution to fall behind your competitors.
The MacLean Financial Group (MFG) was founded in 1990 to provide business owners across the Reno, NV. area with financial advice. As an organization dedicated to lowering operating costs for business owners, it became evident to staff that their manual processes were becoming too costly. Staff was overwhelmed by the physical filing system in place, it would take hours to locate documents, and storage costs were growing. With a couple thousand documents needing processing each day, staff knew they had to look for a more cost-efficient way to operate.
Staff found their solution through Digitech Systems reseller, MuniMetrix Systems Corporation. They decided to implement, PaperVision® WorkFlow, to automatically route documents into PaperVision® Enterprise, an on-premise document management system, so they could securely store information in-house. Now, staff can locate documents in minutes, they have completely eliminated physical storage, and save thousands of dollars annually.
"PaperVision Enterprise allowed us to trade administrative expenses for revenue generating investments."

- Hawley MacLean, President, MacLean Financial Group