Has your organization been a victim of a data breach? According to Garrett Bekker, 46% of US companies have been affected by data breaches in 2017.1 All businesses, no matter the size, need to take measures to help prevent attacks and have a set plan ready to go in case one does occur. No company or individual can be 100% protected from cyber security threats.
IBM Security and Ponemon Institute conducted a data breach survey that revealed the average cost of a data breach is $3.86 million and the average cost per lost or stolen record is $148.2 Data breaches continue to be costlier and result in more records being lost or stolen, year after year.
The rise of cyber attacks is pushing organizations to focus on implementing cyber security to reduce the risk of becoming a victim of a cyber emergency. Your organization can protect your data with cloud-based Enterprise Content Management (ECM) services, such as ImageSilo®. Learn about the five levels of security ImageSilo has to offer to ensure your information is secure at all times by clicking the image below.
Establish your cyber security strategy today!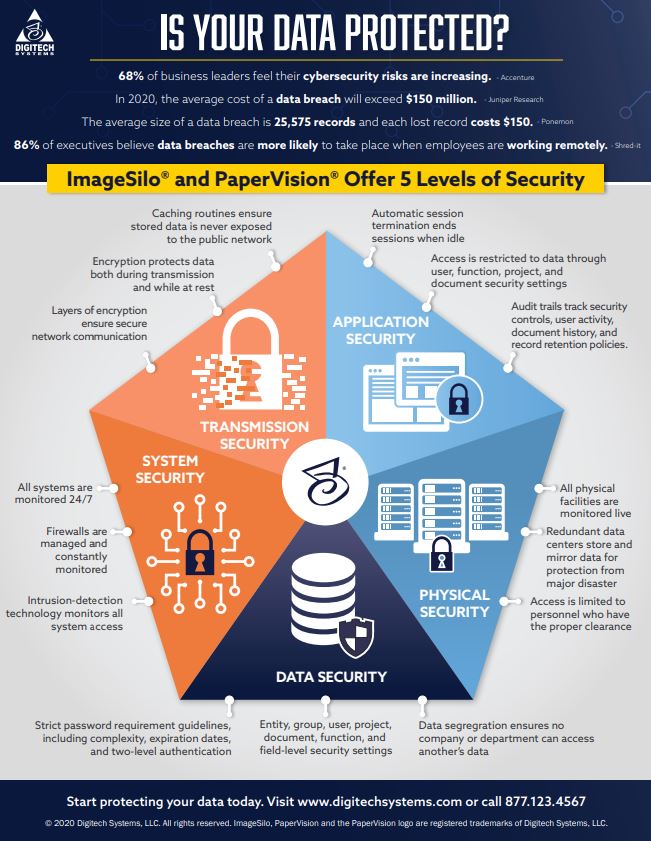 ---
1 Bekker, Garrett. (2018). 2018 Thales Data Threat Report. New York, NY: 451 Research.
2 Ponemon Institute. (July 2018) 2018 Cost of a Data Breach Study: Global Overview. Traverse City, MI: Ponemon Institute