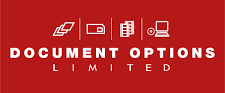 Document Options Ltd. started as a scanner service bureau, and wanted to expand their expertise to stay ahead of the business process automation curve. After seeing how customizable the PaperVision® product suite was, they knew it could fill the automation gap in their product line to meet customer demand.
In this case study, Colin Thornback – Account Manager for Document Options Ltd. – describes how adding PaperVision® Enterprise, PaperVision® Enterprise WorkFlow, PaperVision® Capture and PaperFlow™ to their existing cloud service offer prepared their business for the future of business problem solving. Process automation is a growing trend in the UK, and these added enterprise content management (ECM) solutions allowed Colin's company to lead the forefront of this trend. To learn more about how Document Options Ltd. uses PaperVision to streamline any business process, check out their case study that explains:
How much PaperVision has increased Document Options Ltd.'s sales each year, and the huge sales increase that has jumped in that last couple years
How GDPR compliance is simple for UK companies with PaperVision products
Why 90% of Document Options Ltd.'s customers have PaperVision Enterprise and are always willing to add on PaperVision WorkFlow to enable process automation
Are you staying ahead of the process automation trend like Document Options Ltd.? Download and read their story to see how and if your business is prepared to compete at the forefront of process automation.