Greenwood Village, CO – Sept 3, 2019 – Digitech Systems is pleased to announce that they have been selected by Document Strategy as a Hot Company in Customer Experience (CX) for 2019.
Document Strategy is a technology magazine dedicated to helping business buyers understand which technologies fit their business environments and how to utilize those solutions to deliver the experiences their customers demand. They reviewed hundreds of products to identify those that best enabled companies to provide superior customer experiences.
"By reinventing Enterprise Content Management (ECM) as a simple, accessible and cost-effective system anyone can easily use, Digitech Systems' suite of ECM products immediately provides the ability to improve efficiency, boost control, and save money."

~Document Strategy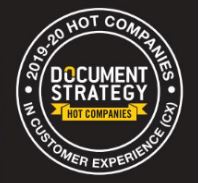 The Hot Companies in Customer Experience list recognizes organizations who are leading technology efforts to improve the ability of companies to give customers exceptional experiences. Digitech Systems was selected based on our tenure providing cloud-based services (ImageSilo® has been available since 1999), the breadth of and ease-of-use across our award-winning product line, our ability to deliver significant Return on Investment (ROI) for customers, and our legendary customer support.
"What an exciting year this has been for us regarding awards!" exclaimed HK Bain, CEO of Digitech Systems. "We are thrilled to be included in the Hot Companies list by Document Strategy. We are dedicated to offering businesses real value through technologies that enable better information management. It's wonderful to see an award recognizing not just the technologies, but also the effect they have on customer experience," concluded Bain.
Read the award opinion from Document Strategy by downloading their 2019-2020 issue.
About Digitech Systems, LLC
Digitech Systems, LLC enables businesses of any size to more effectively and securely manage, retrieve and store corporate information of any kind using either PaperVision® Enterprise content management (ECM) software or the world's most trusted cloud-based ECM service, ImageSilo. By significantly reducing the cost, Digitech Systems has moved ECM from a luxury convenience to an essential element for every well-managed business.
Digitech Systems continues to raise the standard of excellence in the ECM sector, as evidenced by the numerous awards they have received including multiple Nucleus Research ROI Awards. In addition, Buyer's Lab has repeatedly chosen PaperVision® Capture as the best data capture and workflow solution and PaperVision Enterprise as the most outstanding ECM software in the marketplace. To learn more about the company's software and services that deliver any document, anywhere, anytime, visit www.digitechsystems.com.
PaperVision is a registered trademark of Digitech Systems, LLC