Every organization, big or small, must generate reports and data to help them understand what is going on in their business. Unfortunately, despite data rapidly growing, many organizations still use systems that generate reports on paper and crunch through the mountains of printed data manually. Generating reports manually is time-consuming, tedious for staff, leaves data prone to error, and worst of all, expensive. Transitioning from printed data for billing systems or inventory management into electronic files will helps organizations save time, money, and operate as efficiently as possible.
If you are overwhelmed from managing reports and data on paper, there is hope! PaperVision® Enterprise Report Management can help you easily organize data into easy-to-use, electronic reports. You can Process business-critical information, along with the complexity of COLD/ERM, and make forms processing painless. Make your data more accessible and easier to manage with the ability to print, fax, and convert data into practical, electronic reports.
What if You Could Organize Your Data into Easy-to-Use Reports?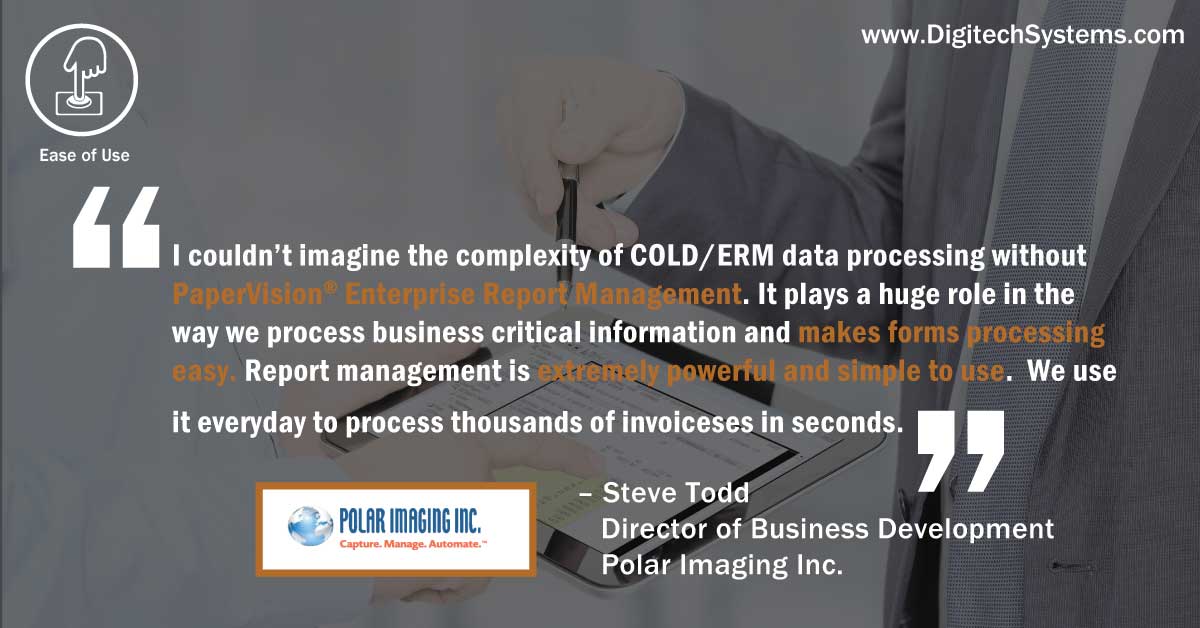 If you think your organization could benefit from electronic reporting, this product sheet is for you! By downloading this product sheet you'll learn all about PaperVision Enterprise Report Management to help you decide if the product can help your business. This product sheet includes information on how PaperVision Enterprise Report management will help your business increase efficiency, gain more control over data by managing everything in one system, and save money by eliminating printing and physical storage costs. This product sheet showcases the product technical specifications as well, so you'll know all the system requirements and security measures within the product. This product sheet is your one-stop-shop for all things PaperVision Enterprise Report Management.
To learn more about how PaperVision Enterprise Report Management can help your organization convert your tedious and costly paper reports into easy-to-use, effective, electronic reports, download the product sheet below.
---
Related Links:
Watch this video to learn how PaperVision Enterprise Report Management helps you better process your COLD/ERM data.
Want to learn more about the benefits of PaperVision Enterprise Report Management? Download this infographic.
PaperVision Enterprise Report Management is the first step to automating processes. Head to our Process Automation page to learn more about automation technology.
No matter the industry, PaperVision Report Management can help. Visit our industry page to learn more.
Why is automation the secret to survival in this economic downturn? Read this Workflow OTG article to find out!