Manual business process steps not only slow you down, but cost you money as well. AIIM reports 55% of businesses scan forms, and must manually re-key the critical data as part of their typical workflow, and two out of three organizations cannot easily identify basic metadata, like the owner and version, for over 50% of their documents. This means more than half of organizations manually enter information into systems multiple times, yet they still can't find or identify simple information on their documents. The ability to accurately extract and identify necessary information from documents is critical for the success of organizations. Imagine how much money and time you could save if you were able to automatically extract critical data from documents.
Businesses are looking to implement automation technology to help them improve business process efficiency and data accuracy. Typical capture technologies simply help businesses digitize their documents. Intelligent capture technologies not only can digitize information, they are able to streamline business processes by automatically recognizing, classifying, and extracting critical data from documents, then exporting that data through electronic workflows, into their other line-of-business (LOB) applications. This makes it easier for organizations to get business information off of documents and into their internal systems, quickly and accurately. Automating manual processes steps helps improve efficiency across the entire organization.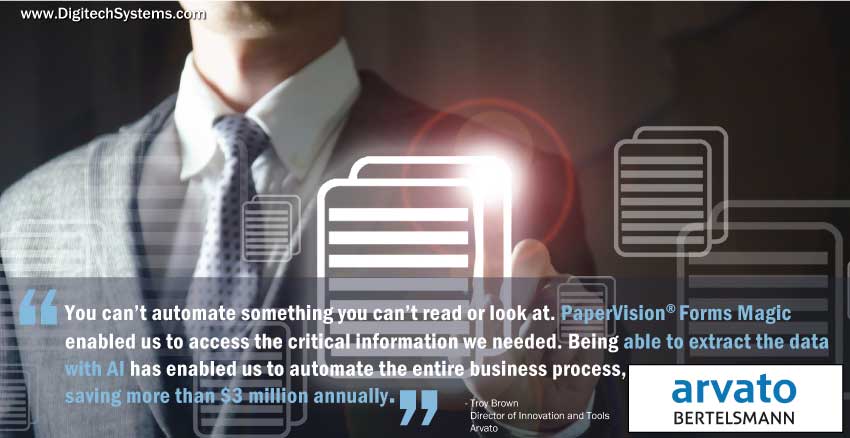 How would your organization improve if you could classify and extract critical data from complex documents? Intelligent capture software, like PaperVision Forms Magic, allows you to intelligently capture your information, allowing you to leverage the value of artificial intelligence without changing the way you manage your business or your business processes. PaperVision Forms Magic helps businesses:
Set up forms in minutes thanks to a powerful AI engine.
Eliminate manual tasks like data entry.
Protect sensitive data with multiple layers of system security.
Integrate easily with other LOB applications.
Automatically classify documents into types.
To learn more about how PaperVision Forms Magic can help your organization intelligently classify and extract information, download the product sheet below.