It's no wonder! Grand View Research estimates that global RPA sales topped $1 billion last year, and they'll continue to grow at a 33.6% annual rate through 2027.
With a technology growing this rapidly, sometimes it can be hard to understand exactly what it is. Perhaps you're wondering how it might help your organization but are unsure where to start. We frequently get asked about RPA, because it's one of the technologies available in our document management suite of products. Keep reading for a straight-forward explanation of what RPA is, which business processes most benefit from it, and what kind of returns your organization should realistically expect from an investment in RPA.
What is Robotic Process Automation?
To understand Robotic Process Automation or RPA, we need to step back to a larger category of business technologies called Business Process Automation (BPA). For almost thirty years, BPA companies have offered technologies such as imaging (scanning applications that help convert paper documents into digital files) and workflow (to automatically route documents from step to step in a business process). Where processes involved more than one application, integrations were coded to allow the applications to share data and exchange information.
The global robotic process automation market size was valued at $1.1 billion in 2019 and is anticipated to grow at a 33.6% compound annual growth rate (CAGR) from 2020 to 2027.
As these integrations became more sophisticated, RPA emerged. RPA uses "bots" (electronically controlled software user accounts) to log into applications and perform routine tasks like data entry or researching and correlating information across multiple systems, replacing the human effort previously required. Now, instead of routing information from human to human to perform the tasks required to complete a business process, RPA allows companies to automate both the routing of information and the tasks themselves.
What can RPA do for my business?
Thinking of your RPA bot as an electronic/robotic worker can help give you a vision of what they can accomplish. As a mature technology, RPA's track record of helping companies to automate specific, routine tasks, such as invoice processing, is well established. There are two key factors to consider when evaluating processes you want to automate: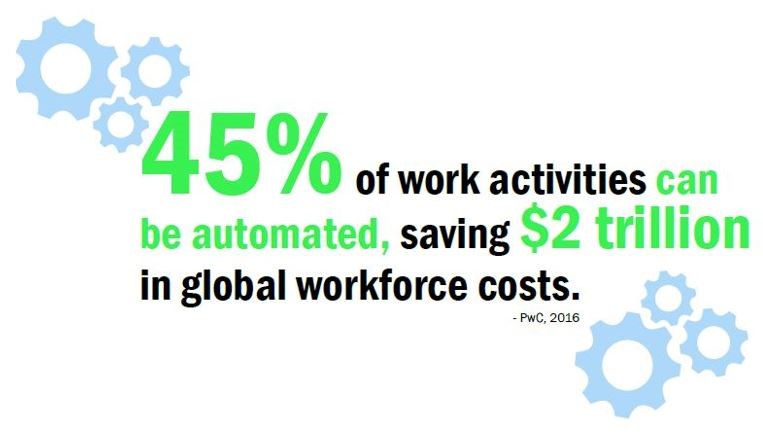 The process is rules-based, meaning the same basic steps are followed for every instance.
The data is found in documents that are similar in structure time after time (i.e., invoices)
The following processes are the ones most often targeted for automation. How might faster, smarter processes in any of these areas benefit your company?
Financial operations such as invoice processing and billing
Human resources such as onboarding new employees and tracking benefits
Information technology such as diagnosing and fixing many common technical problems
Procurement such as requisitions, MRO re-orders, and inventory management
Data and analytics such as monitoring and analyzing information about efficiency, issues, and costs
Almost 90% of general accounting operations and over 70% of financial reporting activity are highly automatable processes.2 Some examples may help get you thinking about your processes that are good candidates for automation.
Relieving Employees from Mundane Data Entry
The Human Resources (HR) department at a typical medium-sized hospital is required to verify every person working there receives annual flu shots by giving the shots and collecting the vaccine forms. The nurse was then hand-keying information from about 1,400 forms into their electronic medical records (EMR). To automate this process, the hospital chose PaperVision® Capture to scan the paper forms and PaperVision® Forms Magic™ to extract the data from each vaccine form. Once the data stored in their information management system, a nurse logs in to view and validate the vaccine information with a click of a button. This sends the validated data to PaperVision® Automation Manager to recognize validated vaccine data and reproduce the data entry in the EMR. RPA reduced the amount of time wasted on simple data entry.
Automating Routine Data Lookup
A shipping company that specializes in refrigerated transport was working with an outsourced mailroom company to manually integrate the paper invoices they received into their accounting application. Accounts Payable (AP) clerks spent 40% of their time searching for invoice data. Today, they use a PaperVision Automation Manager bot to log into their mailroom company, search for invoices by date, and evaluate if the invoice was previously downloaded. If not, the bot saves it to the company's network for processing.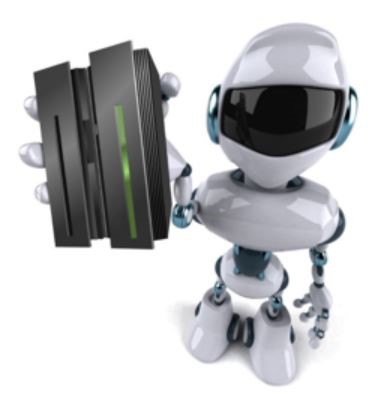 One bot costs about $4,000 versus a typical knowledge worker who makes $48,000.3
What Returns Should I Expect on My Investment?
As indicated, the financial return on an investment in RPA can be significant. Operations managers who've made the switch to automation report:
Cost savings up to 75%
100% accuracy
Reduction of full-time employees (FTE)
Shorter turnaround times
Payback as fast as three months4
Analysts agree. McKinsey and Company explains that companies who automate 50-70% of a task, see average results such as:
20-35% annual cost reduction
50-60% process time reduction
Return on investment "most often" in triple-digit percentages5
We'd love to help you figure out your RPA project!
Learn more about RPA on our website or give us a call at 866.374.3569.