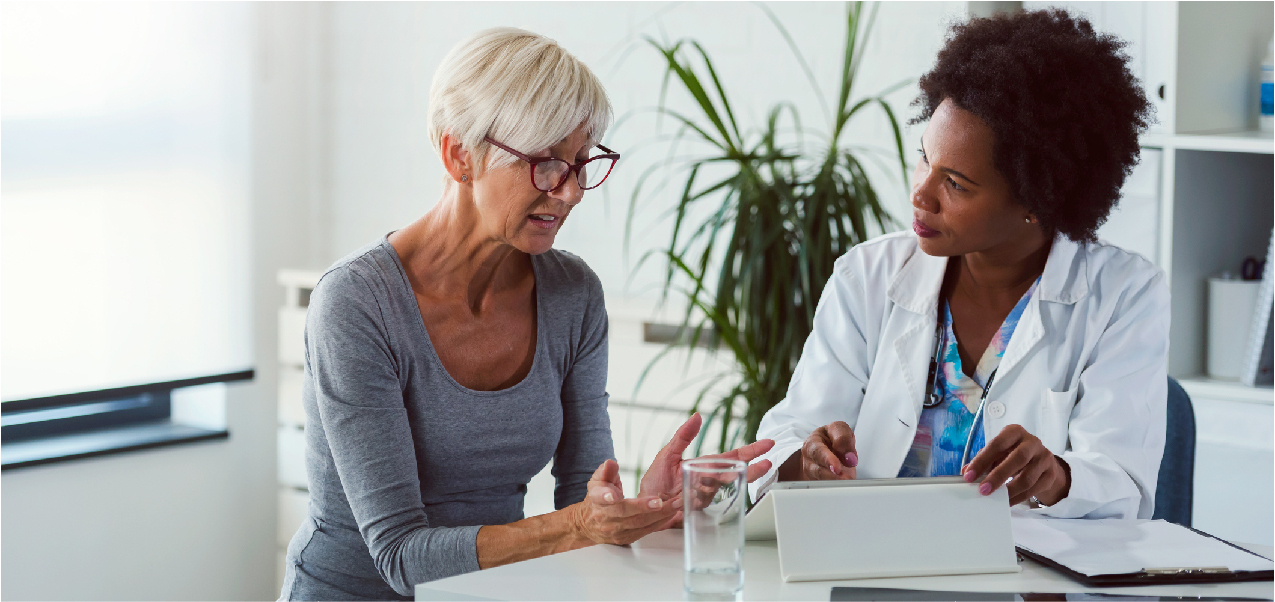 Worried the digital transformation of healthcare information management is speeding past you? Frustrated you're not able to spend less time on paperwork and more time on patient care? You're not alone. Consider the following:
Nearly one in three doctors still spends 20 hours or more a week on paperwork, according to a 2018 survey by the American Medical Association.1
Only about half of primary doctors use Enterprise Content Management (ECM) tools to enhance workflow, a separate 2019 AMA survey showed. The same survey found physician use of ECM was even lower in clinical decision support, patient engagement and telemedicine/virtual visits.2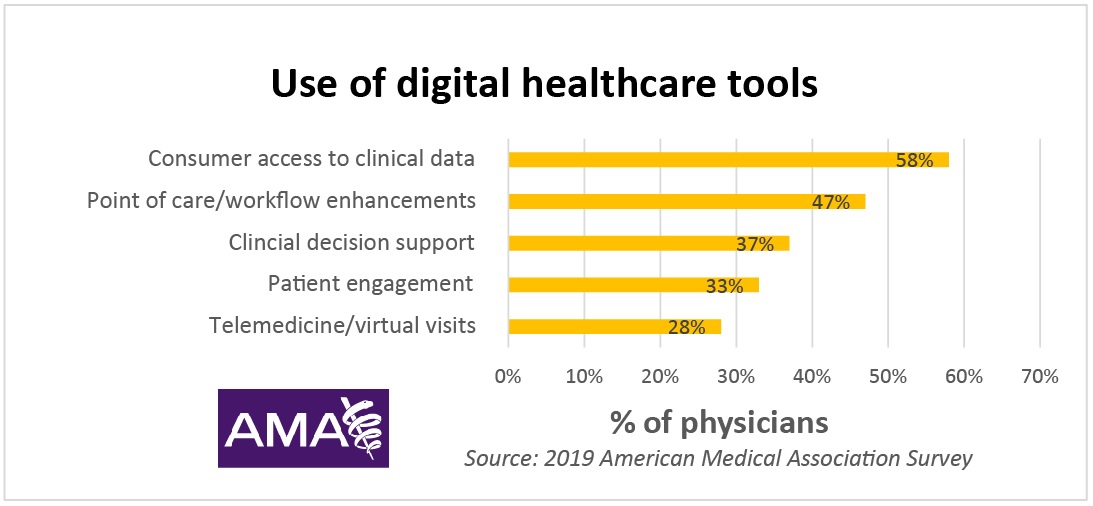 Basic electronic medical records are now common but the greater value comes from managing them to their full potential. Meanwhile, there's a ton of paper still out there to be digitized and managed, including billing records office paperwork, job applications and printed record archives. What if there was an easy cost-effective way to free you and your staff from paperwork in order to better serve patients? We're partners in that effort by providing the latest in ECM products to collect and manage the information vital your office.
Trends driving ECM use
Among the trends fueling the growth of healthcare ECM:
• Patient demand for more and better services.
When patients talk of a good experience at a hospital or medical clinic, they're talking about more than the staff's bedside manner. Maybe a doctor impressed them by going online to access their complete medical history to better guide their care. Or they received a quick answer about a past billing statement. "The ability for patients, care providers and back-office staff to communicate and exchange information — unadulterated and unaltered — determines success," notes AIIM. "ECM is an opportunity to better route information and creates efficient flow of medical content assets while also ensuring the right information is in the right hands at the right time."3
• Increased government funding.
A quarter century after HIPAA, governments continue to push hard for the healthcare industry to transition from paper to digital. The COVID-19 economic recovery packages approved by Congress set aside hundreds of millions of dollars for health information technology, including more than $500 million for rural providers. "Federal, state, and local governments, along with the private sector, have worked together to help digitize health information and healthcare. Yet, much work remains," Dr. Donald Rucker, the National Coordinator for Health Information Technology, said in releasing the 2020-2025 Federal Health IT Strategic Plan that outlines the government's latest goals.4
• Remote/hybrid work.
The University of Alabama at Birmingham Health System faced the challenge of sending 6,000 employees to work from home in the face of the COVID-19 pandemic. "I will tell you that was probably…the roughest (period) that I have experienced" in several decades, UAB Health System CIO Joan Hicks told MedCity News.5 The PaperVision suite of products enables employees to easily and securely access and manage health records and office data from a home computer or mobile device.
• Regulatory compliance.
HIPAA and other laws are leading to broader enforcement actions. In 2020, the most penalties were not related to patient privacy. They dealt with a patient's right to quickly access their health records, according to HIPAA Journal.6
Beyond quick access, ECM also helps the environment. Healthcare organizations should convert paper records to digital files across their organization to aid sustainability. Beyond reducing the use of paper, cloud-based ECM services cut carbon emissions and streamline operations while providing anytime, anywhere access that is secure.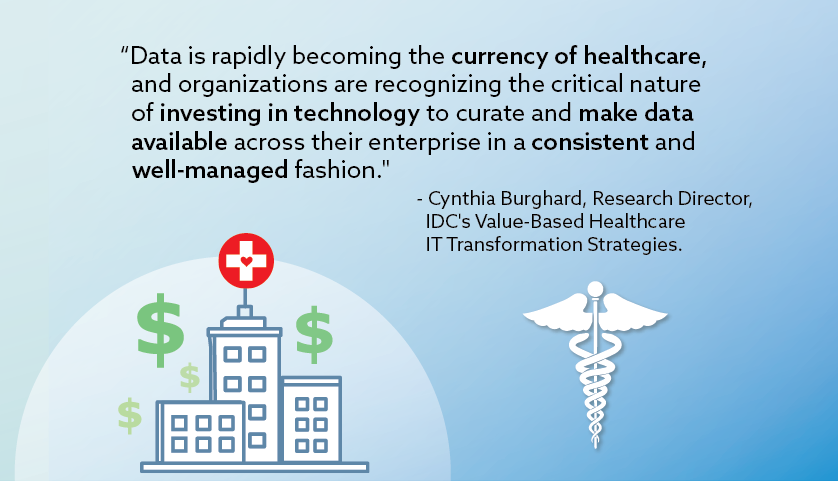 PaperVision meets your needs
By helping you manage information, the Papervision® and ImageSilo® suite of products are at the forefront of helping you improve patient services and reduce costs. With them, you can provide better care by accessing records quickly and securely. By investing in health IT, you may become eligible for federal funding support. You can utilize the cloud to manage all of your records efficiently and effectively and comply with federal regulations. A single easy-to-use system lets you automate billing and other office functions, secure records in a searchable format, digitize printed documents and utilize e-forms and e-signatures to eliminate paper at the outset.
Real-world success stories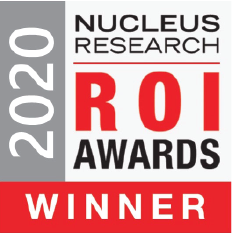 In 2020, Woodstock Hospital won a national Return on Investment Award from Nucleus Research for its use of ECM alongside their Electronic Health Records (EHR) system. Using PaperVision Enterprise and PaperFlow™ products, the hospital made patient records readily available and saved $437,500 a year in staffing, offsite scanning and office supply costs. "We used to have 24/7 coverage just to handle the phone calls. Now thanks to PaperVision Enterprise, we have eliminated the need for after-hours coverage. This has saved the health records department approximately $269,000 annually," hospital chief financial officer Kathy Lavelle says.
The Mental Health Center of Denver reports that retrieving a medical file now takes 10 seconds instead of 1 minute or longer. Documents are scanned in real time. All records are compliant and 100% protected from natural disaster, theft or loss. "With the help of PaperVision® Capture and PaperVision® Enterprise, we're able to ensure the protection of more than 10,000 records. Vulnerable information is no longer just sitting in drawers. And the cost savings are remarkable," says Mary Peelen, the center's director of health information services.