Looking to learn more about cyber security?
Explore the resources available below.
Are You in Control Over Who Has Access to Your Customer's Sensitive Information?
---
See how RMMI, a Digitech Systems reseller, was able to increase the security of their customers' files with ECMNOW!
How Secure is Your Organizations' Document Management System?
---
We recently moved ImageSilo to AWS, increasing the security and durability of data within our cloud service offering. Learn more from our founder, Scott Matthews.
Is Your Organizations' Data Secure from a Cyber Attack?
---
In today's world, cyber hackers are becoming more and more capable of breaking into systems with ease. See how Community Choice Credit Union (CCCU) was able to gain control and increase the security of their customer's data with ECMNOW!
Are You Staying Ahead of the Competition with Cloud Services?
---
Cloud Enterprise Content Management (ECM) systems can dramatically improve how information is managed while also saving your organization time and money. Read the Cloud Services brief to learn more!
Did a Cyber Attack Catch You Unprepared?
---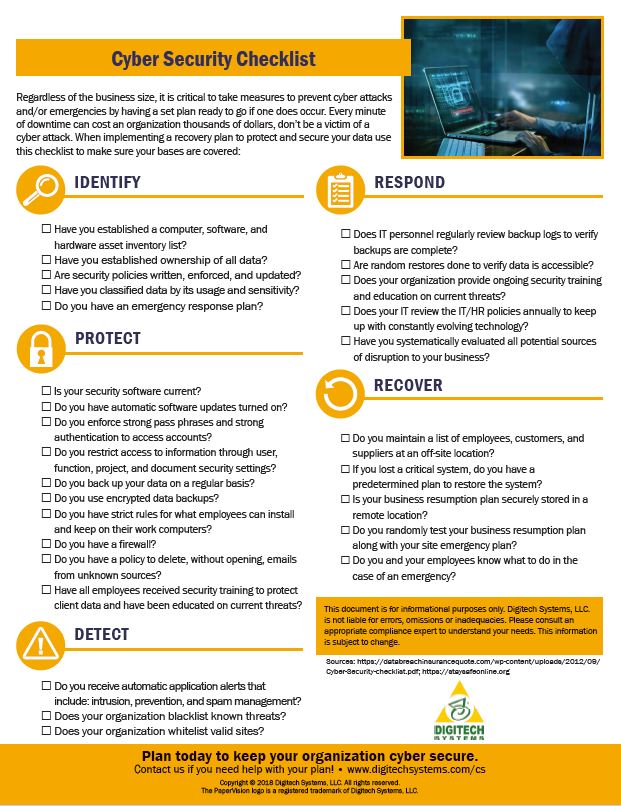 Download our cyber security checklist for a quick guide on five key areas that every organization should consider when building a cyber security strategy.
How Can You Protect Your Data?
---
Make sure your organization's sensitive data is protected with a cloud ECM solution, like ImageSilo®, which utilizes five levels of security.