Did you know that cloud technologies are entering their third decade? Though the idea of delivering access to applications through the internet isn't new, it continues to be one of the fastest growing segments of the technology market. The worldwide cloud services market is expected to reach $330 Billion by 2022, according to Gartner.1
Our cloud-based information management service, ImageSilo®, went to market in 1999, and as one of the first cloud providers, with decades of experience, we've learned some lessons about cloud that may be helpful for individuals trying to improve their understanding of these technologies and for businesses who are considering purchasing cloud-based services.
A cloud by any other name…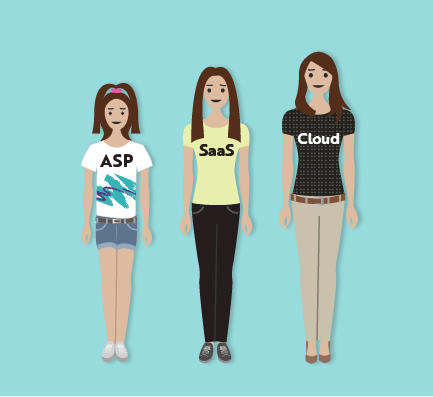 We often run into people who believe cloud delivery is a relatively new technology, but it's been around for decades. Unlike software that relabels new iterations as versions (Application 1.0, Application 2.0, etc.), the delivery of software online has renamed itself entirely each time it has evolved.
In the 1990s as the internet was gaining traction and becoming commonplace, software delivered online borrowed its name from Internet Service Providers (ISP – the companies that provided access to the internet), and went by the moniker of Application Service Provider (ASP). This name stuck around through Y2K, the birth of Google and Amazon, and the explosion of internet use during the turn of the millennium. As technology evolved and cellphones became ubiquitous during the first decade of the 2000s, online applications ran through several different names, including on demand, Software-as-a-Service (SaaS), and finally cloud, which has stuck around through the 2010s. Subtle improvements in architecture came along with each name change, but for most businesses and individuals, those adjustments are not nearly as important as understanding that cloud has a well-established history of safe, successful implementation.
Seven Cloud Lessons
As we've evolved our technologies alongside this evolution of names, we've discovered certain cloud facts or lessons that have remained constant.
Cloud is easier to implement
During our 23 years, Digitech Systems has delivered information management both in the cloud and on-premise for tens of thousands of businesses. In that time, we have consistently seen rapid implementation for cloud customers—sometimes in as little as one day. The following customer stories will give you a feel for just how fast cloud services can start improving business processes.
Cloud is more reliable
We all know downtime is expensive! "According to Gartner, the average cost of IT downtime is close to $5,600 per minute."2 One common misconception is that cloud services can be unreliable, however, just the opposite is typically true. In fact, our Founder and CTO explains that you'd have to wait 10,000 years before losing a single file.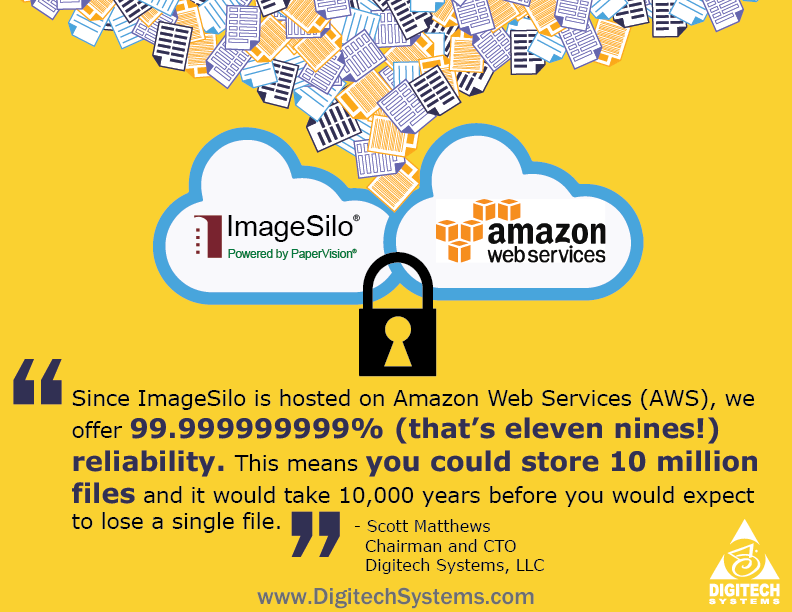 Cloud scales for Big Data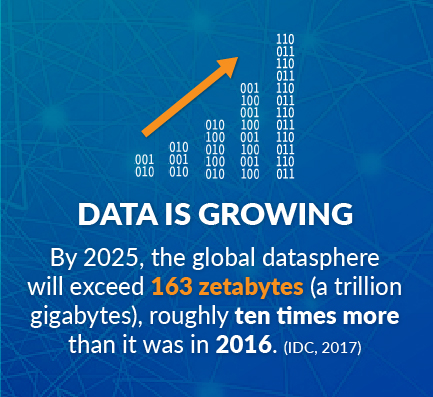 We're all feeling the pinch of data growth. IDC now forecasts that by 2025, the global datasphere will exceed 163 zetabytes (a trillion gigabytes), roughly ten times the size it was in 2016.3 Cloud services typically scale to meet demand, so you don't have to chug through the complexity of capital expenditures or purchasing processes for additional hardware, and you avoid the expense of owning, growing, and maintaining on-premise systems for yourself.
Cloud improves data security
Another common misconception is that files stored in cloud systems are at greater risk than those kept in on-premise corporate networks. However, McAfee reports that 52% of organizations experience better security in the cloud than their own on-premise environments.4 This is good news, since the average cost of a data breach is just under $4 million.5 As you vet cloud services, be sure you confirm that they encrypt information not only when it's in transmission, but also when it sits at rest within the system itself.
Cloud is less expensive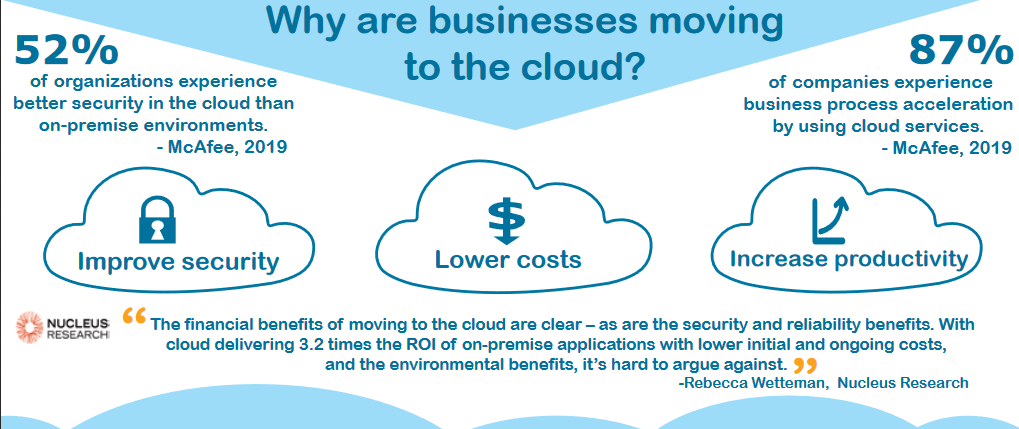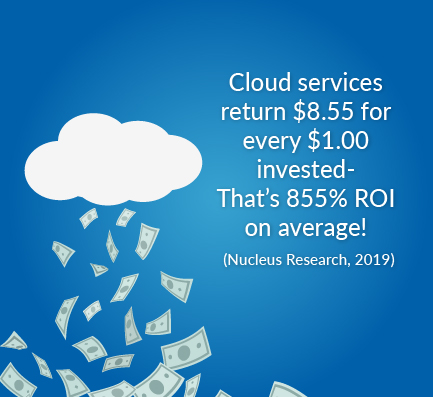 The cloud continues to grow because it offers a lower total cost of ownership, shorter payback period, and the ability to increase benefits over time without increased IT costs. Plus, no capital expenditure for hardware, makes your cloud services bill a tax-deductible operating expense! Learn more about how cloud stacks up against software in this research note from analyst firm, Nucleus Research. You may be surprised to learn that cloud services return $8.55 for every $1.00 invested—that's 855% ROI on average!
Cloud enables secure remote work
Enterprise Content Management (ECM) companies have been in the information management, security, and collaboration business for decades, so now is a great time to turn to these tried-and-true technologies to help remote workers. Most ECM systems include the ability to store a wide variety of file types with a structure and organization that allows users to securely access information from many locations and devices using a simple keyword search. In addition, these products experts at enabling cybersecurity and compliance initiatives Read more in this article we recently contributed to Workflow Magazine.
Cloud speeds automation
Almost $166 billion will be spent by companies on automating process by 2023, and cloud can play a crucial role in enabling the benefits of automation.6 The following customer stories can help explain how cloud fits into process automation projects.
Cooperative Educational Services moved their staff home overnight in response to COVID-19 stay-at-home orders, but was able to continue to process $5-8 million in purchases for New Mexico schools and governments.
Real Property Management Vancouver converted to electronic owner packets and saved time for customers as well as their own staff.
87% of companies experience business process acceleration by using cloud services, so be sure to include cloud in your next automation project.7
We're looking forward to what the next few decades of technology bring, and we expect to continue to lead the evolution of cloud services.